BOOS Annual Meeting was hosted by DMI in 14 December in 2022, as an online meeting. 32 participants from 17 BOOS partners and EuroGOOS Office joined the meeting.
The morning session focusing on BOOS cooperation. First BOOS Chair welcome new partner contacts from IOUG (Poland), LVGMC (Latvia), EPA (Lithuania) and KU (Lithuania), and gave an overview on BOOS activities and future perspectives, representatives from EuroGOOS and NOOS also presented their major activities and views relevant to BOOS. This was followed by reporting annual activities from 17 partners and 11 BOOS working groups (WGs).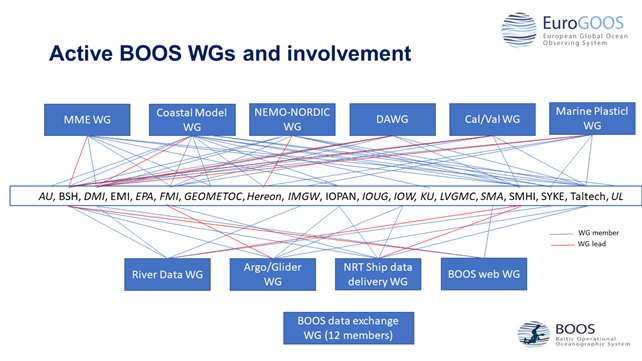 There are increasing activities in developing models and products for offshore wind farms, climate change adaptation, aquaculture, environment and pollution assessment, especially in estuarial-coastal continuum. More partners started to apply data assimilation in their operational system (e.g., BSH, TalTech). A new reanalysis with 1nm resolution on physical and biogeochemical status is now made by DMI.
The afternoon session is BOOS business meeting. BOOS members voted for changing BOOS logo from "Baltic Sea Operational Oceanographic System" to "EuroGOOS Baltic Sea Operational Oceanographic System". EuroGOOS will help to maintain the BOOS website, together with BOOS website Working Group.
The next BOOS Annual meeting will be a physical meeting, in Helsinki in May 2023. FMI has volunteered to host the event.